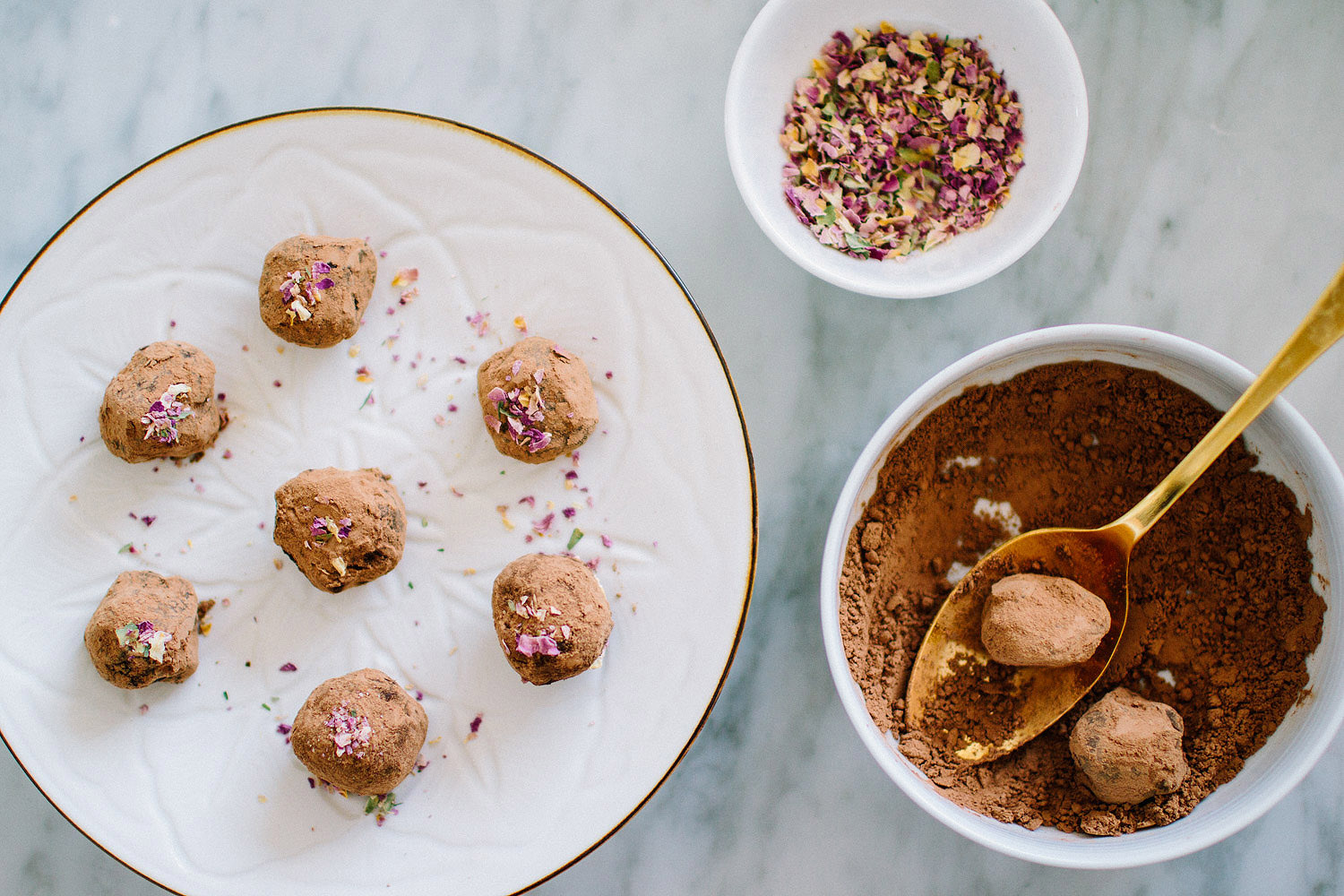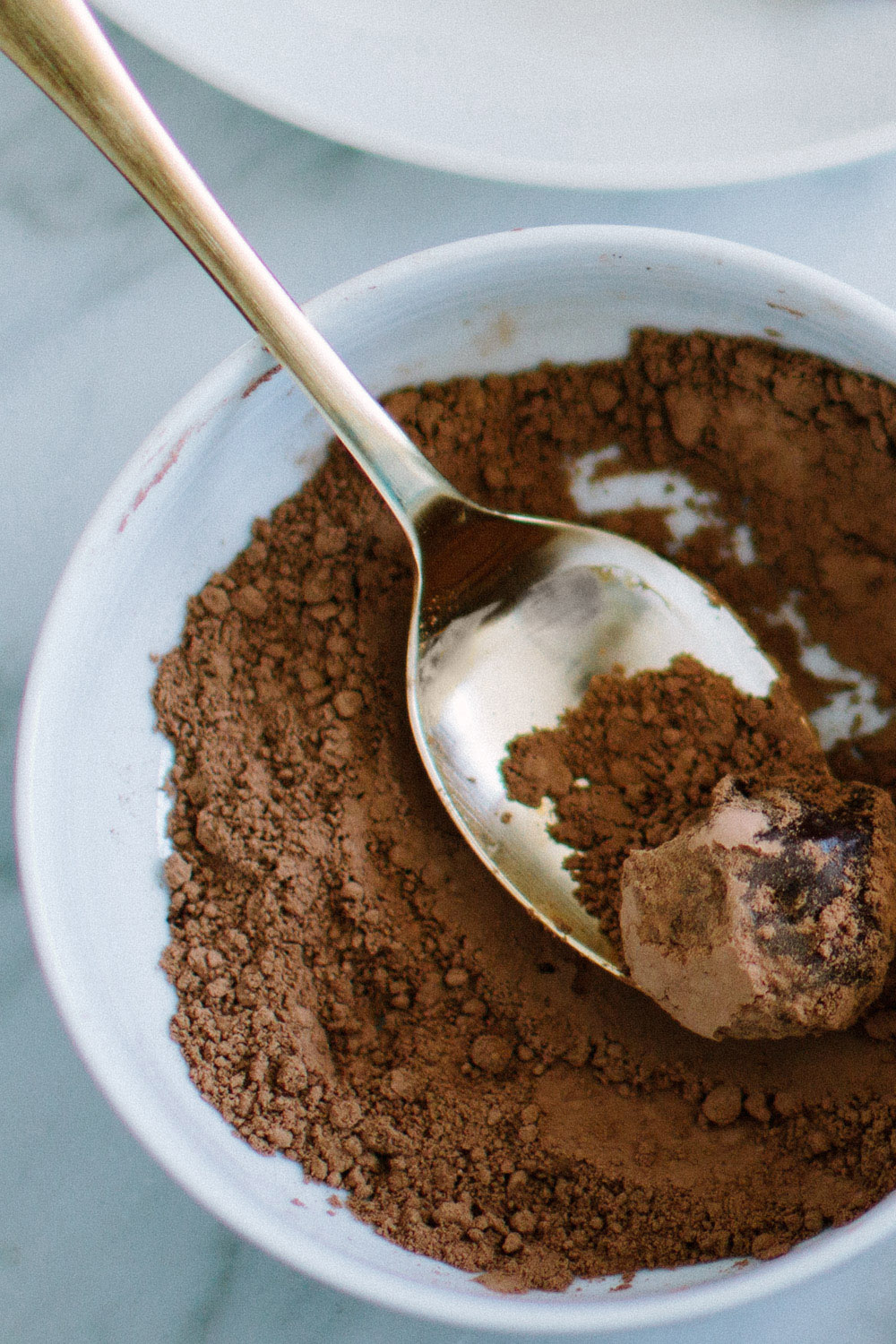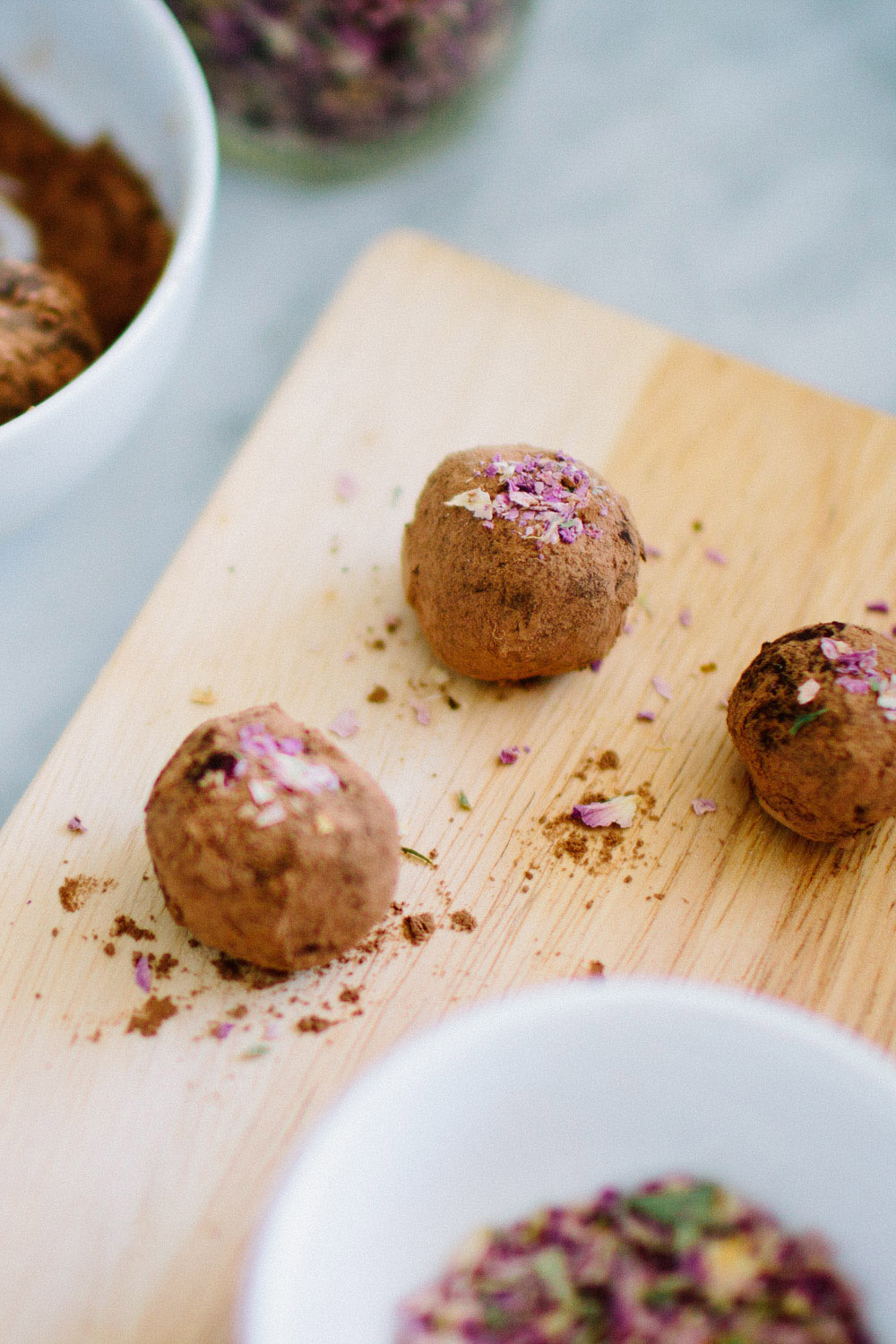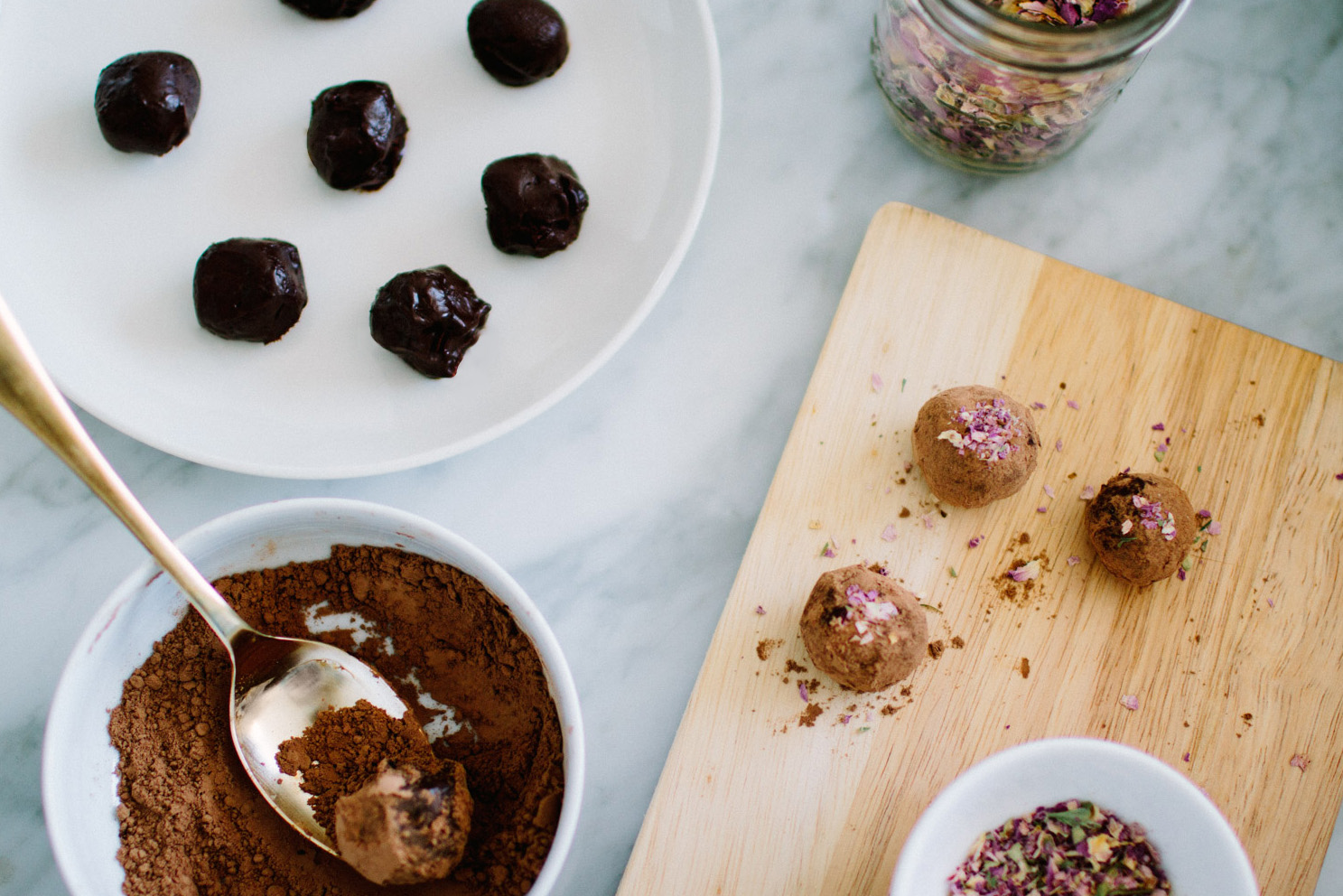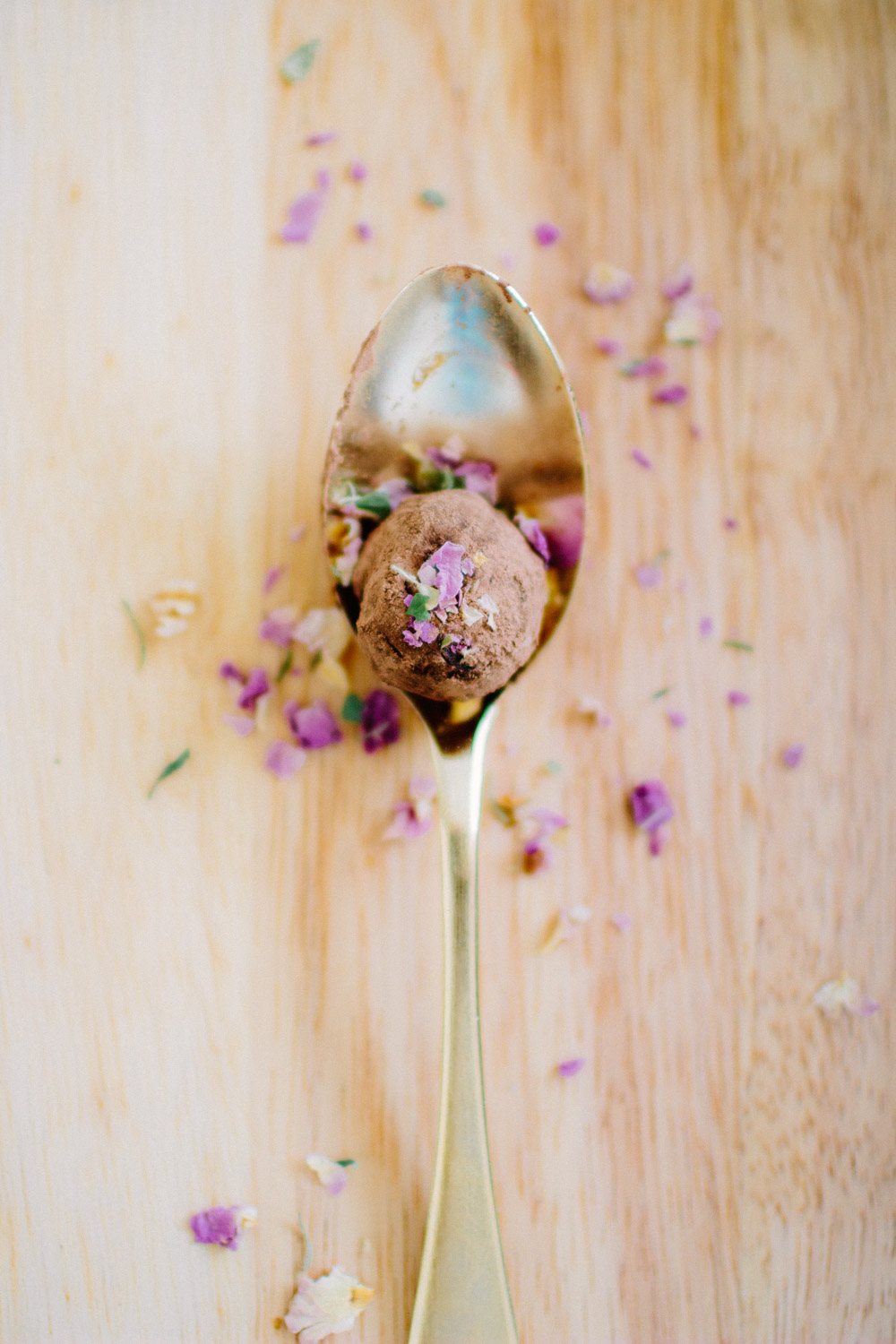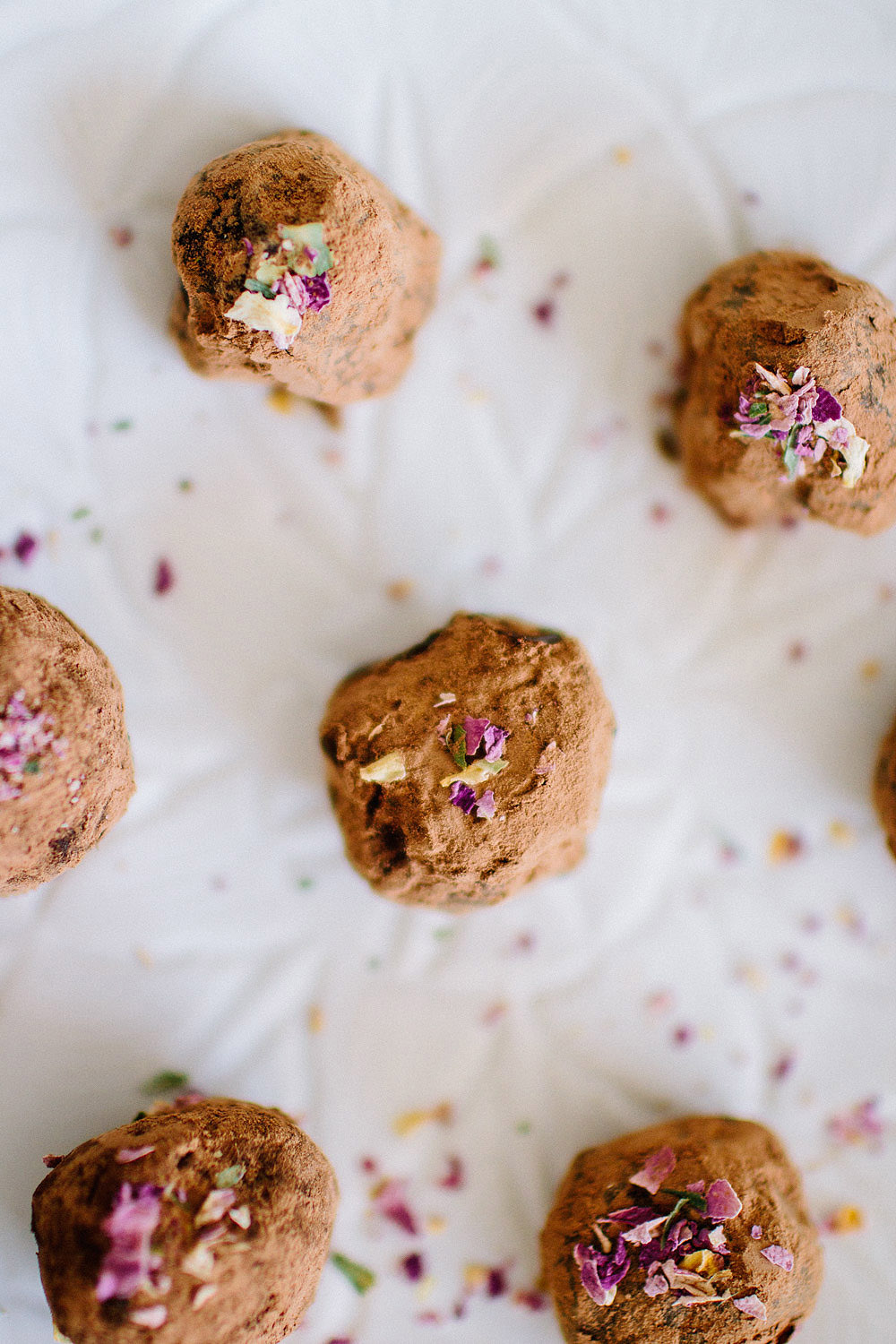 I'm always interested in desserts and sweet treats that are gluten-free and refined sugar-free because in the long run, it's at least a little healthier for your body, which brings me to the gorgeous book, Clean Cakes by Henrietta Inman. The title of the book is somewhat misleading because it doesn't just include recipes for cakes, but also for petit fours, savory tarts, and raw treats. I first discovered it in the bookstore and immediately bought it. It does call for some hard-to-find ingredients, but I think that's usually the case when you bake with alternative sweeteners and ingredients in gluten-free baking! I really like it and can't wait to bake more from it.
I've been on a rose kick lately, so after trying the first recipe I chose – the dark chocolate truffles – I wanted to incorporate a rose flavor into it, and I thought it was a success! The boyfriend approved it also 😉
The original recipe called for maple syrup, but I thought swapping in honey would complement the rose flavor better. To incorporate the rose flavor, I used a combination of rose extract and rose-infused coconut milk. For the milk, I simmered coconut milk with dried rose petals and let it steep for a few moments before straining, which resulted in a fragrant, cream-colored milk with a delicious rose flavor. The rose extract I used is by Nielsen-Massey. It's labeled as rosewater, but it's definitely more of an extract since it contains alcohol. It's really strong and using too much can impart an alcoholic taste, so using just a little bit is just enough.
Dark Chocolate Rose Truffles
---
Makes 20 truffles | Adapted from Clean Cakes by Henrietta Inman
Ingredients
1/3 cup + 1 tbsp full fat coconut milk
3 tbsp dried rose petals
1/4 tsp rosewater by Nielsen-Massey* or other rose extract
5 tbsp honey
2/3 cup cocoa powder, plus extra for coating truffles
pinch salt
1/3 cup + 1 tbsp coconut oil, melted
dried rose petals for garnishing
Directions
In a small saucepan, heat coconut milk and dried rose petals over low heat and bring to a gentle simmer. Let simmer for a minute. Turn off the heat and pour the mixture into a small bowl. Let the rose petals steep in the milk for at least 5 minutes. Strain the rose petals from the coconut milk through a fine sieve. Discard the petals and set aside the coconut milk.
In a food processor or blender, combine rose-infused coconut milk, rose extract, honey, cocoa powder, and pinch salt. Process until smooth.
Add in the melted coconut oil. Process again until smooth. Taste the mixture. If you want the rose flavor to be stronger, add 1/8 tsp of rose extract at a time and taste as you go. Using a spatula, scrape out the mixture into a medium bowl. Cover with plastic wrap and refrigerate for 45 minutes or until firm and pliable.
Quickly shape the chocolate mixture into small balls, about one inch in diameter, and place on a small plate or tray. Refrigerate again for 10 minutes until firm.
In a small shallow dish, roll each truffle in cocoa powder, shaking off any excess. To decorate, gently press a pinch of dried rose petals onto the tops of each truffle. If your rose petals are too big, crumble them between your fingers or give them a quick whizz in the food processor until they resemble small flakes. Refrigerate until ready to eat and serve cold.
Notes/Troubleshooting
*Rosewater by Nielsen-Massey contains alcohol and is not real rosewater.
The truffles keep melting as I shape them!

This is normal! Your kitchen could be too warm or the mixture hasn't chilled long enough in the fridge. You can try running cold water through your hands before rolling. After rolling into balls and chilling, you can try gently reshaping them as well.

Can I substitute rose extract with rosewater?

I've tried this and I believe it depends on the brand of rosewater you have. I experimented using 1 tbsp rosewater and the flavor was too subtle, but if you are okay with that, it should be fine.
---