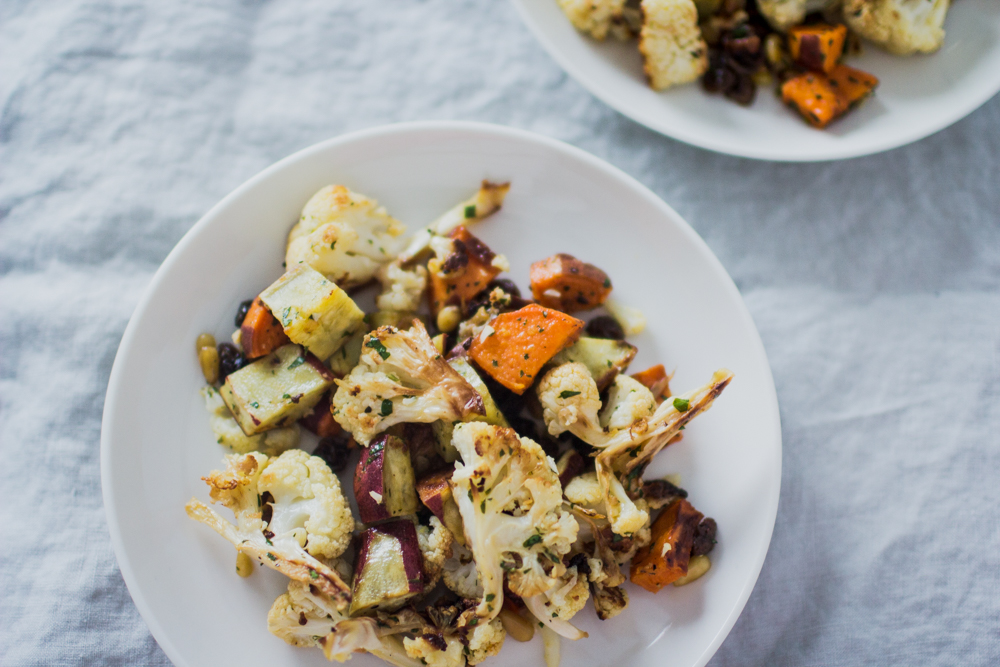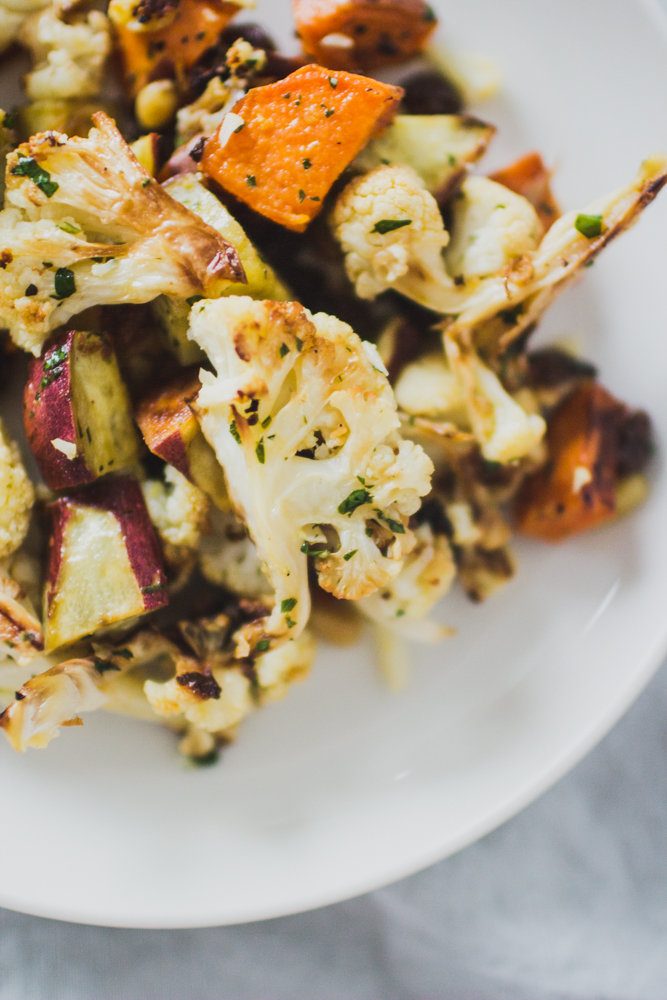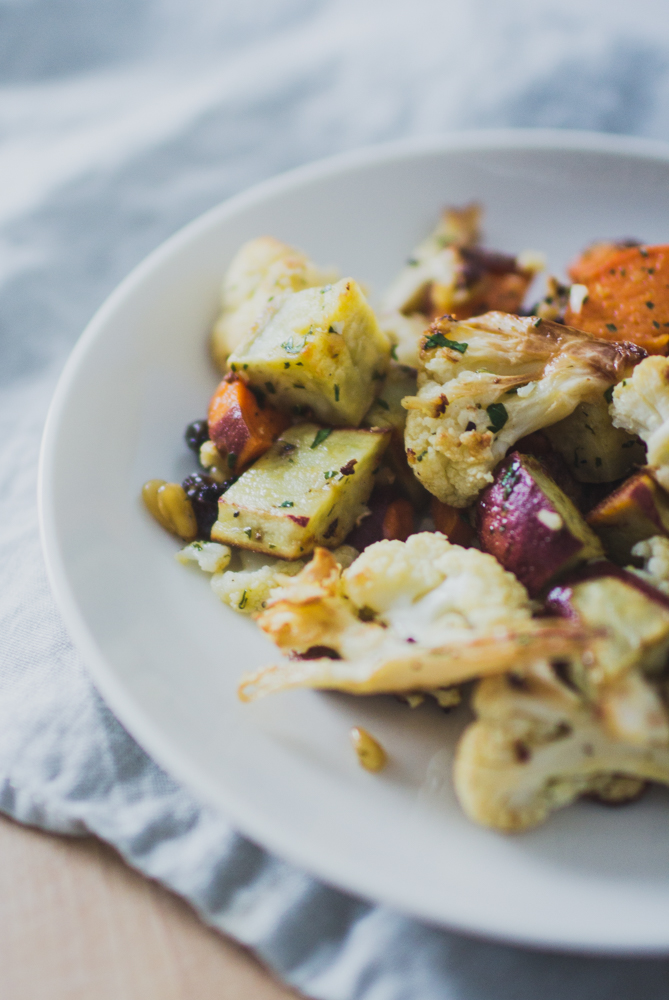 What I eat for breakfast is usually very random for me during the work week. Some days I'll just have an apple and maybe a cup of almond milk yogurt – which by the way, I found the best brand ever!! It's a brand called Kite Hill. Apparently it's exclusive only to Whole Foods Market (darn it!). I really wish every other deli in New York city could carry this! It'd be my instant snack choice in a heartbeat when the post-lunch munchies come around. But anyway, back to breakfast. Sometimes I might not have anything, which isn't a good habit because then I eat like no one's business for lunch because I'm so hangry. But other times, I might have something of substance like leftover roasted vegetables that couldn't fit into our lunchboxes I was packing that morning. Which brings me to this dish, because on one such morning, I had leftover roasted cauliflower and Japanese sweet potatoes. Instead of just eating them plainly, I added parsley, lemon juice, and raisins, which I always seem to have on hand. And wow, I was delightfully surprised at how everything tasted so good together! I also want to say, I really love Japanese sweet potatoes more than other sweet potato. It has this chestnut flavor that I love, and the texture is a lot more denser and drier, which I thought contrasted well with the roasted cauliflower.
If only it had something nutty like pine nuts, it would be perfect was what I thought. And so I got some pine nuts.
When making this the third time or so, I thought I bought two Japanese sweet potatoes, but it turned out that one of them was a Garnet variety that had orange flesh. Sneaky sweet potato! But the orange color ended up adding a burst of color to the dish. And finally, I love how lemon works here. It doesn't overpower the other flavors, but brightens the overall recipe. If you try this, let me know how you like it!
Roasted Cauliflower and Sweet Potato with Lemon, Parsley, Raisins, and Pine Nuts
Serves 4 as a side dish
Ingredients
1/2 head cauliflower, cut into florets
1 medium Japanese sweet potato, cut into 3/4 inch chunks
1 medium orange sweet potato, cut into 3/4 inch chunks
1 tbsp lemon juice
2 tbsp olive oil
1/2 tsp lemon zest
2 tsp minced parsley
3 tbsp raisins
3 tbsp pine nuts, toasted
Directions
Preheat oven to 400 degrees F. Spread cauliflower florets and sweet potato chunks out on a large baking sheet. Drizzle with olive oil and season with salt and pepper. Toss the vegetables to coat well. Spread back out into an even layer in the pan. Bake for 25 minutes until vegetables are crisp, golden, and tender, stirring the vegetables every 8 minutes for even browning. Let cool for about 5 minutes. Transfer roasted vegetables to a large bowl.
Meanwhile, toast the pine nuts over medium-low heat in a dry pan for about 3-5 minutes, watching carefully and stirring frequently to avoid burning the nuts. The nuts are done when golden brown and toasted. Transfer the pine nuts to a small bowl immediately to stop the cooking process.
Whisk together the lemon juice, olive oil, minced parsley, and lemon zest until well combined. Pour into the bowl of roasted vegetables and add the toasted pine nuts and raisins. Gently toss well.
Taste and adjust seasoning. Serve warm or at room temperature.