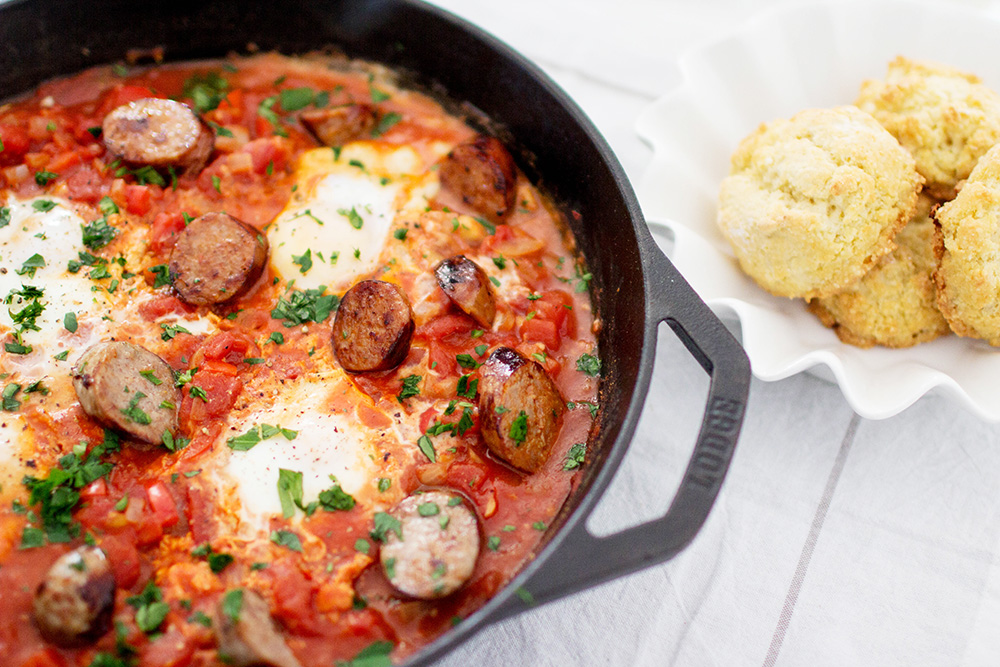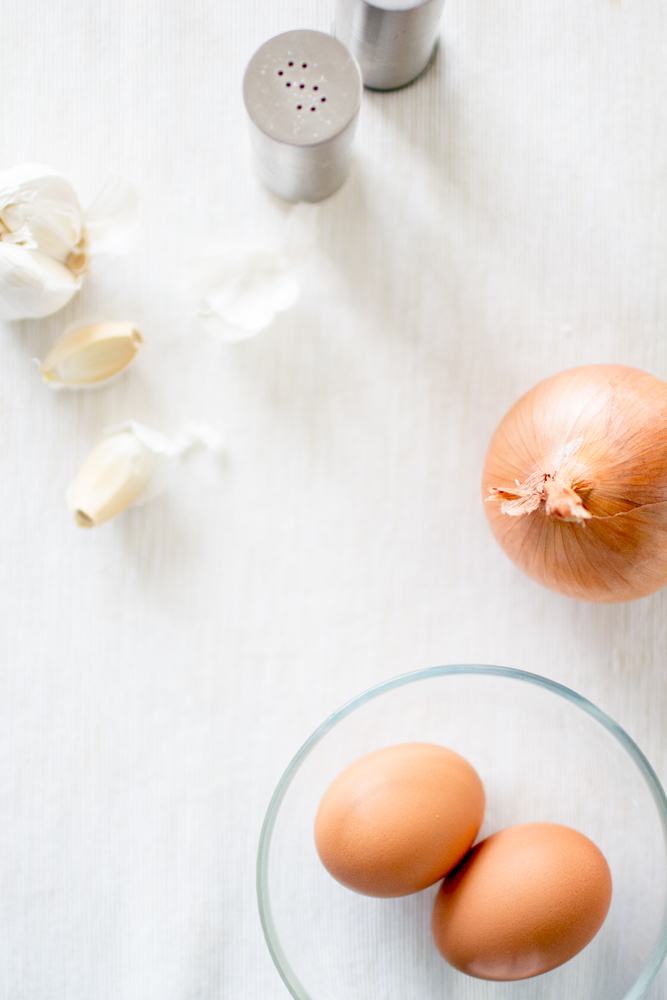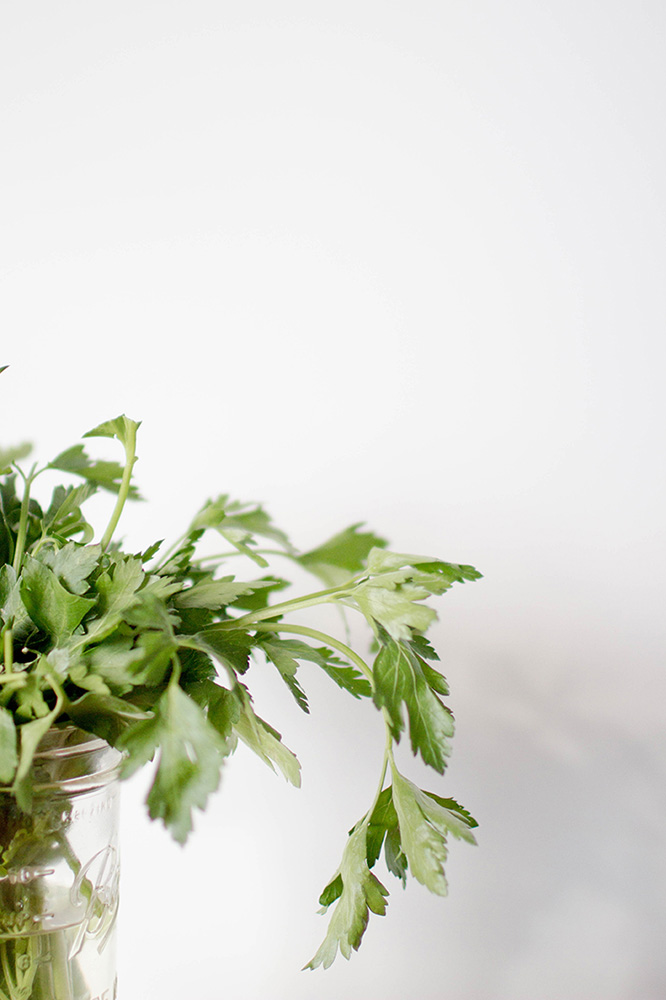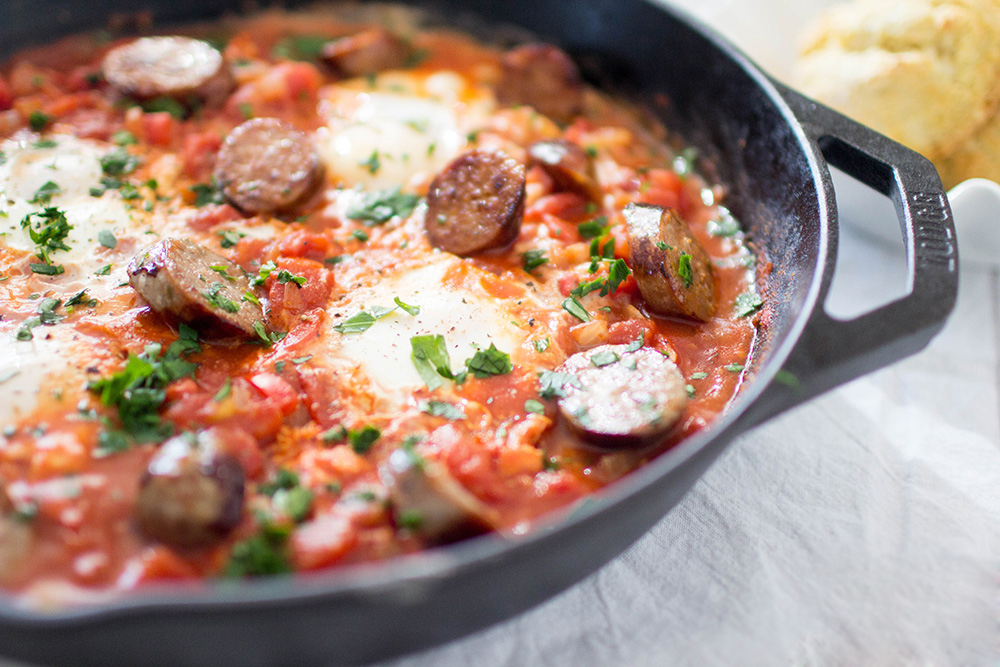 Shakshuka is a dish of eggs poached in tomato sauce. It is by far one of my most favorite breakfast meals! It is hearty, simple, delicious, and comforting. It means "eggs in hell" because it is traditionally spicy and, well, the tomato sauce is very red! However, I make a non-spicy version since I can't handle spicy foods. When I make it non-spicy, I like to call it "eggs in heaven."
I find that you have to serve some kind of bread to go alongside this dish or just something to soak up the flavorful tomato sauce. I've made paleo naan (by Heart Beets) a few times and also paleo biscuits. My favorite part of the dish is popping a poached egg yolk and sopping up the oozing, runny egg yolk.
I've made this dish countless times. I find that you can be creative with this dish and make it your own. Once, I sprinkled leftover shredded parmigiano reggiano cheese and basil over the shakshuka before serving. I just had so much parmigiano reggiano leftover from a recipe that I didn't know what to do with! Another time, I had a lonely, sad potato sitting in the back of my vegetable drawer along with a couple of carrots, so I thought I would add them into the shakshuka I was making. I diced them and added it into the tomato sauce, simmering until soft before cracking eggs into it. In this post, you'll see that there's sausage in the shakshuka photos. I wanted the dish to be heartier and filling, so I pan-fried and sliced a spicy and a sweet Italian sausage (spicy for the boyfriend, sweet for me!), and nestled the slices into the shakshuka before serving. But, this dish is perfect without any additions. Anyway, go make some shakshuka! I know I will soon again! Happy Shakshuka-making!
Shakshuka
Adapted from Tori Avey | Serves 2-3
Ingredients
1 tbsp olive oil
1/2 medium onion, diced
1 clove garlic, minced
1 red bell pepper, finely chopped
2 14-oz cans diced tomatoes
2 tbsp tomato paste
1 tsp chili powder (omit for a non-spicy version)
1 tsp cumin
1 tsp paprika
Pinch of cayenne pepper (add more to taste if desired)
Pinch of coconut sugar
1/4 cup water or chicken broth
6 eggs
1/2 tbsp fresh chopped parsley
Directions
Heat olive oil in a large skillet or cast-iron pan over medium heat. Add in the diced onion and saute until soft and translucent. Add in the bell pepper and saute until soft, about 5 minutes. Add in the garlic and saute for a minute until fragrant.
Stir in the tomato paste, spices, sugar, and diced tomatoes into the pan. Stir well, and let simmer for 5-7 minutes until the mixture begins to reduce. If your mixture looks dry or could use some more liquid, add 1/4 cup water or chicken broth. Season the mixture. Taste and add more spices and season to your preferences.
Crack in the eggs one at a time – crack one into the center and then the rest around the outer edge of the pan, spacing them apart evenly. Cover the pan with a lid or with aluminum foil if you don't have one. For poached eggs, the eggs should be done in 5 minutes. For over-easy eggs, simmer the eggs for 10-15 minutes. Just insure that the egg whites are cooked through.
When the eggs are done, remove the shakshuka from heat. Sprinkle a little bit of salt and cracked pepper over each egg. Garnish the shakshuka with the parsley. Serve immediately.